December 31st, 2021
Tijuana River
National Estuarine Research Reserve
January 2022 eNewsletter
A Time for Reflection
Chris Peregrin, Reserve Manager
The end of the calendar year gives us an opportunity to reflect on the past and look to the future.

Since time immemorial, the Kumeyaay have existed in this region, and they continue to have a strong presence today as community leaders on their ancestral land. This past year, we at the Tijuana Estuary have had the privilege of meeting with Kumeyaay representatives to discuss various aspects of estuary management, environmental education, and a number of specific programs and projects (the Nelson Sloan Quarry Restoration and Beneficial Reuse of Sediment Project, the Tijuana Estuary Tidal Restoration Program II Phase I, the 50th Anniversary of Border Field State Park, and season 1 of the Divided Together Podcast, to name a few!).

I also participated in the Leaders for Outdoor Equity program, which has inspired in me new thinking about how we can incorporate diverse experiences and viewpoints, including those of the Kumeyaay, in the management of public lands. I am thankful for these opportunities and the perspectives that have helped guide our work this year.

Looking forward, I am excited to continue to deepen our relationship with the Kumeyaay to ensure the health of the Tijuana Estuary,
as well as its significance to our future generations.

Sometimes I will make my way to the end of Seacoast Drive, overlooking Oneonta Slough, and bring a book to read while eating my lunch. This year I returned to a collection of poems called Turtle Island. I share it with you below and extend to you best wishes for a happy New Year, full of rediscovery, from all of us at the Tijuana Estuary.

FOR THE CHILDREN by Gary Snyder
The rising hills, the slopes,
of statistics
lie before us.
the steep climb
of everything, going up,
up, as we all
go down.

In the next century
or in the one beyond that,
they say,
are valleys, pastures,
we can meet there in peace
if we make it.

To climb these coming crests
one word to you, to
you and your children:

stay together
learn the flowers
go light
First Day Hike
January 1, 2022
11:00am
Meet at Tijuana Estuary Visitor Center
This New Year's Day 2022, California State 

Parks

 will participate in the 12th Annual First Day Hikes at 

parks

 across the state. This national-led effort encourages people to experience the beautiful natural and cultural resources found in the outdoors with a seasoned guide so that they may be inspired to take advantage of these treasures throughout the year.

Tijuana Estuary is participating by offering a Nature Walk led by docent Jan. The walk will start at the Tijuana Estuary Visitor Center at 11:00am and last about 1 hour. Please join us in ringing in the New Year in this outdoor national event.

Read more about America's State Parks First Day Hikes and its interesting history.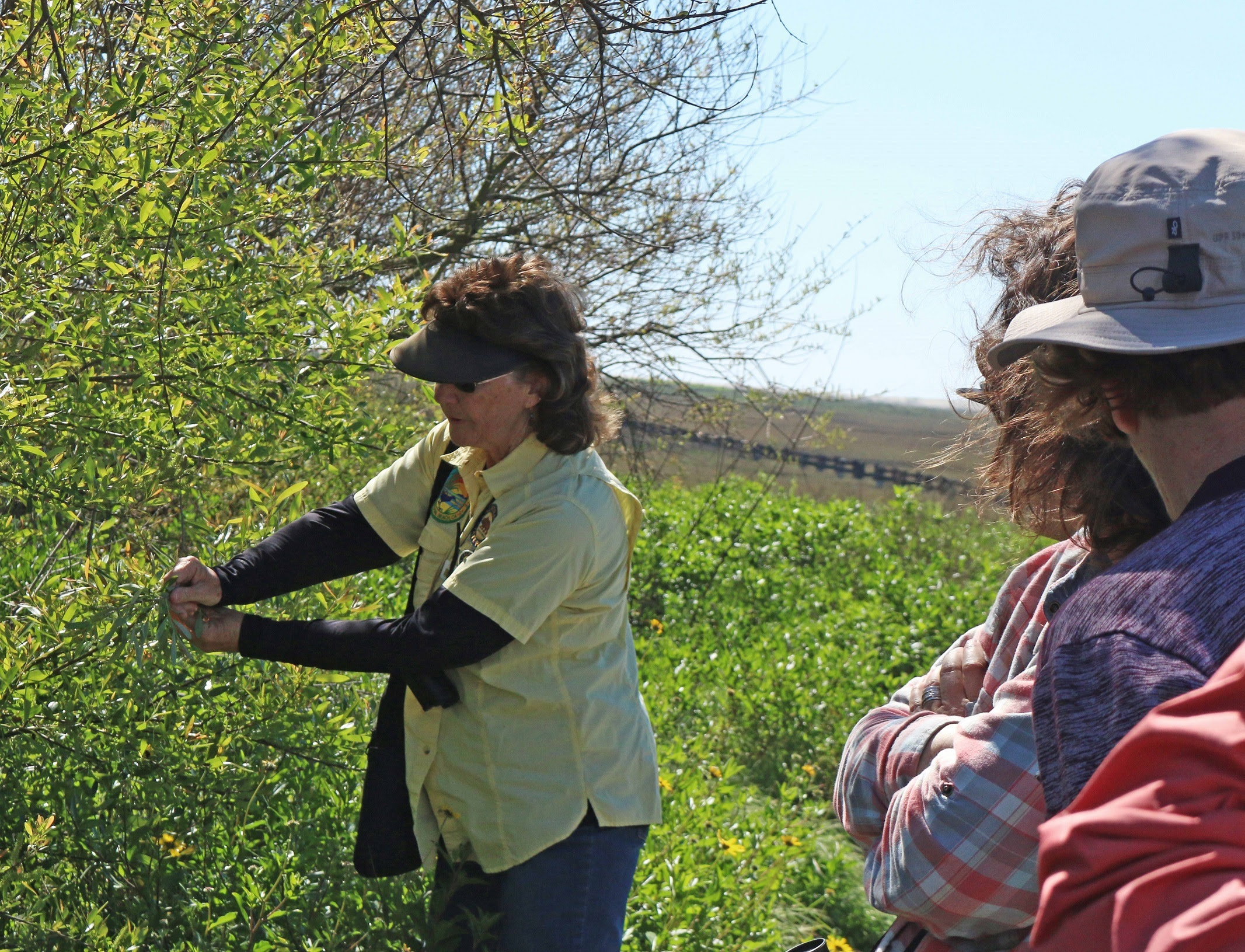 California King Tides Project – Get Involved!
January 2 & 3, 2022
The California King Tides Project helps visualize future sea level by observing the highest tides of today. You can help by taking and sharing photos of the shoreline during King Tides to create a record of changes to our coast and estuaries.

Find out what time and how high the King Tides will be near you. Learn how to participate by uploading your photos via a web browser or with a free app. Your photos will be added to a map of this season's King Tides photos. As always, please be cautious and respect the power of the ocean, and don't disturb shorebirds that may be much farther upland than usual.
iNaturalist Spotlight of the Month
This month the Tijuana Estuary is spotlighting this iNaturalist post of a red-tailed hawk (Buteo jamaicensis) sitting on a dead flower stalk of a Shaw's agave (Agave shawii) near the Visitor Center.

Red-tailed hawks are not uncommon in this area but what's interesting to us is this particular agave has held several birds of pray as of late. Typically it was commonly seen with a white-tailed kite (Elanus leucurus) sitting up high, but more recently it's been a perched upon by not only the red-tailed hawk shown here, but also a northern harrier (Circus hudsonius) and American kestrel (Falco sparverius).

The dead flower stalk makes a high perch in an area with low growing coastal sage scrub adjacent to the even lower vegetation height of the salt marsh. This dead stalk won't last forever. Eventually it will lean completely over and this vantage spot will be gone.

Check out this particular iNaturalist post, or all the December posts within the Tijuana River NERR.

Photo credit: Red-tailed hawk on a Shaw's agave (biocowboy – iNaturalist).
The New Year brings with it new changes.

One big change to look for is that Tijuana Estuary will be launching a brand new website in the coming weeks. We've been planning and redesigning for months and we're excited to show off our fresh digital face to our viewers.

We think our users will find the new website easier to navigate, learn about our work, and find resources. We find it visually pleasing and a more enjoyable experience. Stay tuned!
Copyright © 2021 Tijuana Estuary, All rights reserved.
You are receiving this email because you opted in via our website.Our mailing address is:

Tijuana Estuary

301 Caspian Way

Imperial Beach, CA 91932-3149

Want to change how you receive these emails?
You can update your preferences or unsubscribe from this list.